Baptist Health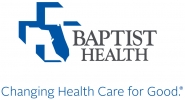 800 Prudential Drive
Jacksonville, Florida 32207
(904) 202-2000
www.e-baptisthealth.com
Baptist Health is north Florida's most comprehensive health care system, providing high-quality comprehensive care for every stage of life.
Founded in 1955, Baptist Health is the area's only locally owned and governed health care provider and includes five nationally accredited hospitals with more than 1,000 beds combined. Our hospitals include Baptist Jacksonville, Baptist Beaches, Baptist Nassau, Baptist South and Wolfson Children's Hospital.
Baptist Health is recognized as a national leader in the strategic use of clinical information technology to improve the quality, safety and timeliness of care. In 2005, Baptist South was nationally recognized as one of the first hospitals to successfully implement electronic medical records (EMR). Today, all five hospitals are fully digital. In addition to our five Magnet™-recognized hospitals, Baptist Health includes 47 primary care offices, as well as home health, a community pharmacy network, behavioral health, pastoral care, occupational health, rehabilitation and urgent care.
Year after year, Baptist Health is recognized by more northeast Florida residents as their most preferred health care provider for best doctors, best nurses, most personalized care, overall quality and patient safety, according to a survey by the National Research Corporation.
Baptist Medical Center Jacksonville
As the central hub of the Baptist Health system, Baptist Jacksonville provides the highest level of medical and surgical care using the latest technologies, such as the robotic-assisted da Vinci® Surgical System. Baptist Jacksonville includes the area's only dedicated Heart Hospital and the region's only Stroke & Cerebrovascular Center, which provides residents access to the latest minimally invasive treatments for stroke and other life-threatening conditions of the brain. Baptist Jacksonville is a comprehensive stroke center, meaning it meets care standards and guidelines to treat the most complex stroke cases and provides a full spectrum of treatment.
View Map
Baptist Medical Center Beaches
Located just a half-mile from the Atlantic Ocean, Baptist Beaches provides the convenience and personalized care of a community hospital with the sophistication and modern technology of a leading-edge medical center. The 136-bed hospital is a designated primary stroke center, meaning it follows national standards shown to significantly improve patient outcomes.
View Map
Baptist Medical Center Nassau
Located in Fernandina Beach on Amelia Island, Baptist Nassau is a 54-bed acute care hospital with the advanced technology you'd expect to see at a much larger facility. Baptist Nassau recently opened a new medical office building, with an inpatient community hospice center, Baptist Heart specialists, a new sleep lab, urology and pulmonary services.
View Map
Baptist Medical Center South
Jacksonville's first hospital of the 21st century, Baptist South, is an all-digital 269-bed hospital with a family-friendly, hotel-like design. A new, eight-story patient tower opened in 2010, adding 62 new patient rooms and a 14-bed Level II Newborn Intensive Care Unit.
View Map
Quick Facts
Jacksonville's most preferred health care provider for 25 years based on the National Research Corporation's Health Care Market Guide
2012-16 Magnet™ designation, the gold standard for patient care.
2012-13 America's Best Regional Hospitals by U.S. News & World Report for gynecology, gastroenterology, diabetes and endocrinology, cancer, cardiology and heart surgery, geriatrics, pulmonology, nephrology, neurology and neurosurgery, orthopedics and urology.
2013 Women's Choice Awards for Best Hospital Patient Experience
Home to the Baptist Health Stroke & Cerebrovascular Center, which provides latest minimally invasive treatments for stroke and other brain conditions.
All five Bapitst Health hospitals are accredited Chest Pain Centers, granted by the American Society of Chest Pain Centers, which ensures patients with chest pain have rapid, efficient diagnosis and care using evidence-based protocols
Partner Information
You must have JavaScript Enabled to view this map.
Processing Your Request
Exclusive Deals
Exclusive Deals Coming Soon

Hotel Partner Offers

We are currently updating our specials and deals mapping feature. Please check back soon for exclusive deals and savings.